EB: In your own words how do you describe what you do?

NW: I'm a ceramicist who dabbles in a little bit of this and a little bit of that.

EB: Where did the dabbling spirit come from?

NW: I've been this way since I was young. – I suppose I have a very project-based type of mind. I think my lack of formal training in design and ceramics has gifted me a sort of naive freedom to explore ideas without worrying about design principles or things being cohesive. I follow my curiosity and if there's something that feels within reach, I don't stop myself from trying it.

EB: What is your educational story?

NW: For college, I pursued an interdisciplinary major called Visual Studies, which included a bit of studio art, philosophy, material culture, and science. In the process, I discovered the (new to me at the time) field of historic preservation and I fell under the spell of old buildings. It felt like a perfect fit for my mix of interests at that time. So I went on to get a master's degree in Historic Preservation in Philadelphia which was an intellectually inspiring two years.
The degree afforded me a whole host of unique experiences working and researching abroad, mostly in Asia. 
I love historic architecture, I love thinking about place and watching spaces change. My entire family has been in New York City since the late 1800's and I grew up hearing their many tales about earlier versions of the city. Maybe because of that, I've always had a kind of a heightened interest in spaces and their evolution over longer periods of time. I feel really lucky to have this long view perspective when living in a city that changes so rapidly. 
So preservation seemed like a great fit at the time. Then while I was writing my master's thesis and was suffering from writer's block, I took an elective ceramics class, and the rest is history.

EB: There's nothing like academic writing to really just push one into a 180 degree turn!

NW: I actually had to make a formal pitch to my advisor about how an elective wheel throwing class was relevant to the major! I had this full spiel about architectural terracotta and things I had studied in a recent building technology class being relevant to ceramics. But I managed to take that class and there was a spark that altered the course of my plans.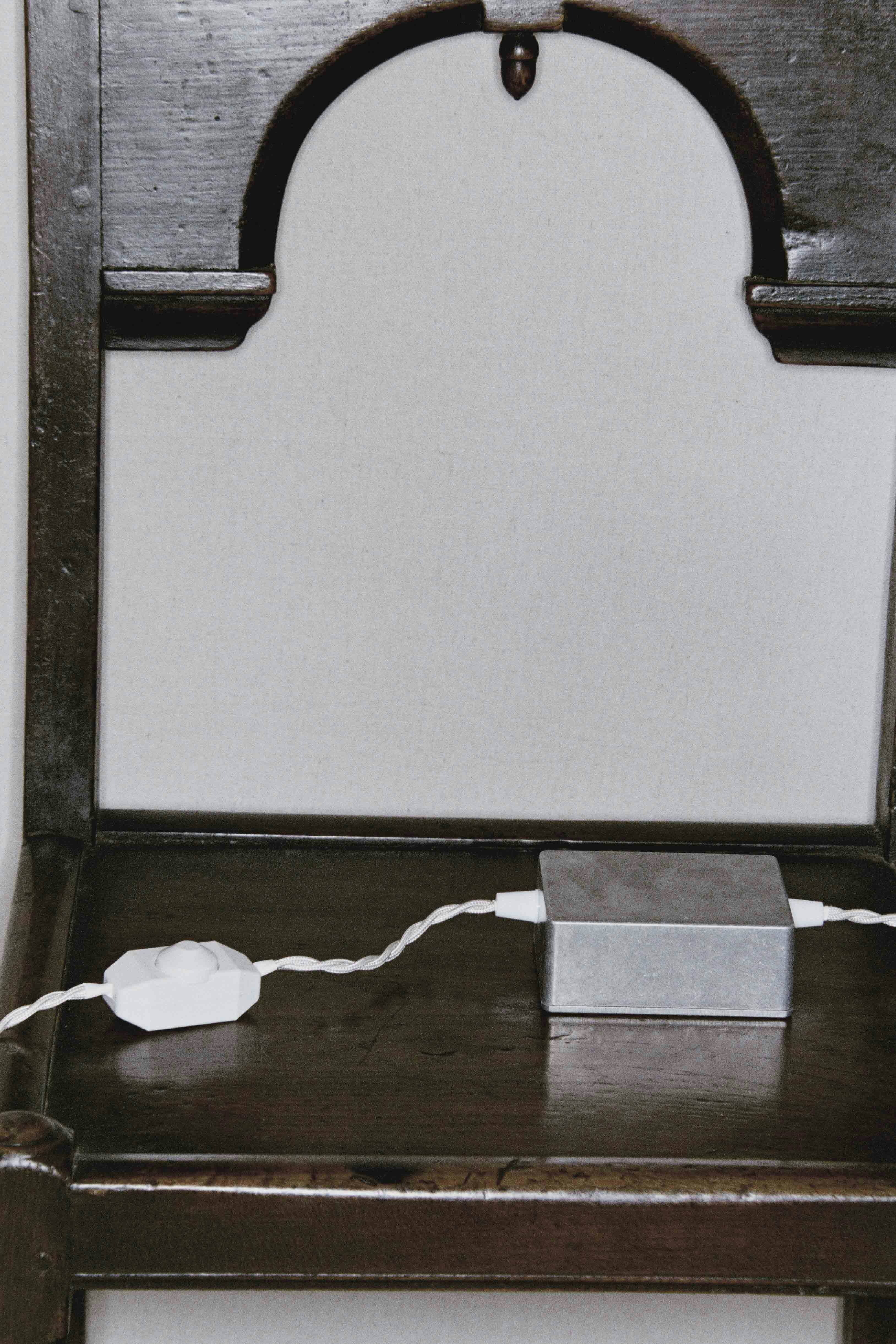 EB: I see a powerful thread of connection in your work, which has to do with your use of material and movement. Can you talk about how your practice relates to movement, rhythm, or tempo?

NW: Working with ceramics is all about motion and time. These are the guiding principles of the materials. I played drums for most of my childhood and teenage years, and had a great band teacher who taught me syncopation and how to keep time. Working at the wheel felt familiar from the start – you get to set the tempo and improvise within those constraints, or at least that's how I see it. 
I'm drawn to the notion of frozen gesture in sculpture – it's probably one of the things that attracted me to clay in the first place. Movement is also a big part of glaze, and something I'm looking for more of in my surfaces. I like that visual record of a movement that happened in the dark during a firing. I'd love to try and develop the same sense of flow in the cast glass work.
EB: I'm also interested in other language you use when thinking about your practice, be it when communicating it out to the world, or just in the studio thinking to yourself. Are there certain descriptors that feel foundational?

NW: I like an element of tension. A lot of people have told me that my work is restrained and quiet and I like that. But I'm also so attracted to things that are busy and chaotic. I like messy surfaces paired with a very clean form, or the other way around. 
There's this phrase in ceramics: "hurry up and wait" that feels very relevant for me. Because you're working with this material that contains water, you're racing against time with evaporation and clay drying out. But after you hurry, you need things to dry, so you wait. The same is true for working with plaster, or loading and firing a kiln. This idea of two very different paces of working is something I relate to in a more general way. I can sit on ideas for years, sometimes, before actually getting to the materials and starting to work. I can be very very slow. Then when I do start, I tend to move quickly. I don't like things to look too contrived or overworked. I wait and then I hurry. 
EB: Is there a recent project for you that reflects your idea of going slow and letting an idea take its time?

NW: This project for the gallery is a perfect example. I think all of the actual glass components were made in two weeks, but with a very, very long incubation period. I started learning about pâte de verre and kiln casting glass around five years ago, testing and tinkering in my studio. I had always wanted to make wall lighting using this method, but the project was intimidating on multiple fronts. I needed to work through some technical roadblocks for a long time before getting started. When Jacqueline expressed interest in this idea I was thrilled to finally devote proper time to it. So I'm very excited about the new pâte de verre work. And even though itwas a long time coming, I did make the glass panels very quickly. The beauty of being both designer and maker is that you can pair careful calculation in the planning process with spontaneity and improvisation with your handling of the materials.

Was the process of these lights at all similar to your clay practice?

NW: The creative conception was quite different, but once that part was decided, the multi-step process of kiln casting glass has much in common with other methods I use in making ceramics. After creating scale drawings on paper, I translated each panel into clay, building out volumes. Then, refractory molds were made from those clay positives in more or less the same manner I'd make a mold for slip casting ceramics.
Finally, the mold was filled with glass frit, which was then fired and cooled very slowly to make the final glass panels. Unlike my ceramic firings which are typically under 10 hours, these glass firings took more like two full days. Also very different is that the molds for kiln cast glass are only good for a single use. They crumble as you lift them out of the kiln! It's a painstaking, cumbersome process, but rewarding and worth it.

EB: I'm fascinated by your journey from clay to glass. And also your other uses of glass, which I'm assuming is a more collaborative process.

NW: Well, what's funny is that I actually started with glass. I took weekend glass blowing classes in Williamsburg, Brooklyn when I was in high school, right after 911. I had very cool teachers and really loved it, and eventually chose my university based on the fact that they had a glass program. I was dead set on becoming a glassblower. But then, because it was a state university, I couldn't get into a glass class until my senior year. So I did one year of glassblowing and I improved a lot. But at the time being a craft person just didn't seem like a viable option, and so I took another path.
It's funny to think that I had this false start and that I was able to find my way back. I always knew I would try to work in glass again when I got serious with ceramics. Kiln cast glass is the most direct way for me to work with glass in my studio.  With my current set up, I didn't need to buy anything–save for the glass itself–to get started. I'm already working with glass by way of glaze, so it all felt very fluid.
EB: Your ceramic works and lighting define a sensitivity that scales from the body to an environment. How does this material practice speak to your relationship to space?

NW: I'm not sure why I have a tendency to make things at a scale typically smaller than the length of my forearm. I think intimacy is one motivation, and maybe a limitation of skill another.  There's also the fact that small objects can be so useful to people. My mother is a physical therapist, and my whole childhood I would hear her critique the ergonomics of objects and furniture around her. Without meaning to, I think she taught me strong spatial awareness in relation to the human figure, which I think has helped me in my work.
 Light is also something I developed a sensitivity for as a kid. My father and his twin have a window blinds business that formerly belonged to my grandparents. I was well aware of the variety of window coverings on the market from a young age, and was able to observe their different qualities of light. I have a fundamental belief that a single object can change the entire feeling of the room around it. But with lighting, it's not just the object itself altering the feeling of the space; the quality of light it gives off changes the way everything else in the room looks in a very severe way. So lighting is the ultimate influencer in the room.

EB: It seems that mood, atmosphere, and ambiance feel like a main character in how you create and what you work on?



NW: It's all about setting a mood. Personally, I like this intervention to be subtle, so I can focus on the life I'm living and not be too distracted by the things around me. I want the things I make to set a tone, but not to shout too loud.

EB: We've talked about how a light can be a sculpture of the room where its formal and atmospheric potential can be as important as its functionality. Does this way of creating design objects feel more exciting or comfortable for you?

NW: I'm not sure. I love the unseen elements of the room. For me, designing a water glass is extremely exciting and challenging. How can you make the most basic thing into something very appealing? So I like both. I haven't worked so much in the sculptural range, so it's a little bit more uncomfortable to me, but it's something I'm trying to get more comfortable with. I like variety. I like when some projects have much more limitations and others have very few.

EB: How do the new works for the gallery reflect where you're at right now? How does it feel to have these completed and ready to be shown to the world?

NW: I'm excited to share them and I'm excited to make more. I'm also very much into making pots on the wheel right now, which is a nice surprise after drifting away creatively from that work for a little while. And while I plan to continue making vessels, it's freeing to be making more pieces that break from the container theme.
EB: Finally what feels particularly important to you, as a designer and a human right now.

So much has been made, so much is being made. I want to make things that feel like they have some kind of meaning or value. I don't mean that in a conceptual way. I mean that you can hold something or look at something and it can make you curious, it can hold your attention. I'm not always successful with this, but what I'm striving for is to make useful things that inspire people to ask how did this happen? It would be amazing to inspire a similar kind of awe you would have when visiting a gems and minerals collection, or collecting colorful rocks on the beach. Just a real wonder and appreciation for the materials of our world.
Then there's the human history element. What's so cool about pâte de verre is that this method of forming glass in a kiln actually predates glassblowing. It's a direct extension of the technology we developed for making ceramics. This is such an interesting story that I think people would love to learn more about–myself included. I hope that by working with this somewhat senseless technique I'll be able to get people curious about the origin stories of one of our most ubiquitous man made materials.