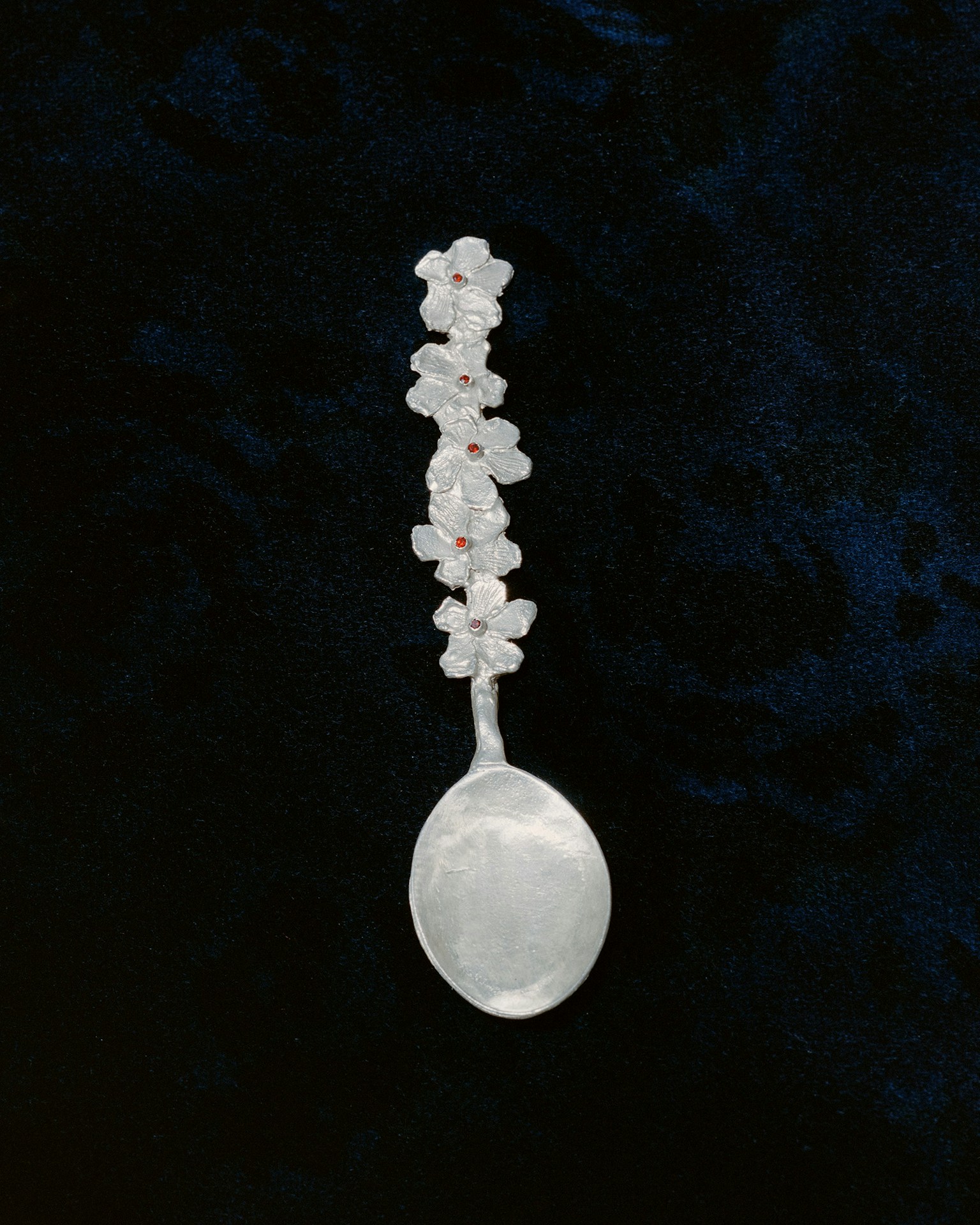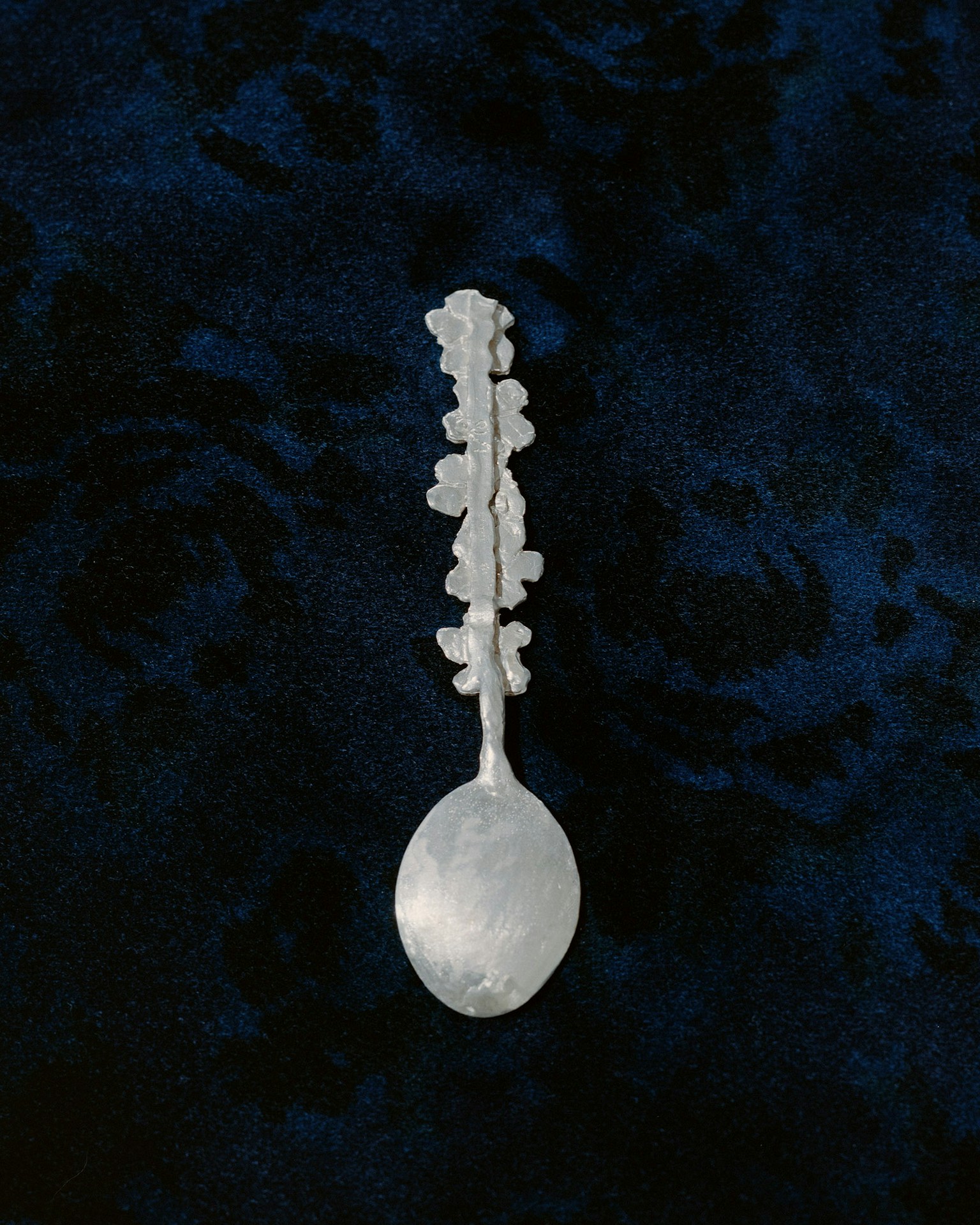 E.B: Where are you and how are you doing? 

C.V: I have been traveling a little too much in the past  weeks. I went to the Tibetan plateau for a few days and then Milan for work. I now find myself back in Portugal, sitting still. All I hear is birds. I am in the garden in a state of contemplation, observing how the colors have changed from the last time I was here. I'm also thinking it's the same with how I'm feeling, which can change like the colors of the season.

E.B: In your own words, what do you do?  

C.V: I thrive through the creation of beautiful objects and the pleasure of simple moments and boundless freedom that they bring. I've always rejected being confined to any specific label or classification. What you do does not necessarily define you and sometimes, we move around places for different reasons at any one specific time. I find liberation in staying open to change and exploration as it's through these experiences that I not only survive but also find profound fulfillment and joy.
E.B: In researching your work it seems to me that your story as an artist started largely within the medium of painting, yet more recently, your material landscape has expanded into glass, metal, clay and beyond. I'd love to learn a bit about your relationship with material and what pushes you to explore new material directions, and/or remain faithful to familiar ones.

C.V: I grew up very close to my Grandmother, who was a painter. I have these memories of visiting with her regularly because she lived very close by. For the last eight years of her life, she was stuck with one little corner of one painting that I saw through so many years, shaping to be so many different things. I saw how she would make something so beautiful one day and the day after she would completely change it and I'd have thought she ruined it! Then the following day, she would fill the corner with a black block. And then another day, beautiful roses. I wasn't thinking about myself as a painter at that time, but it was a relationship that I found very poetic thanks to the conversations we'd have.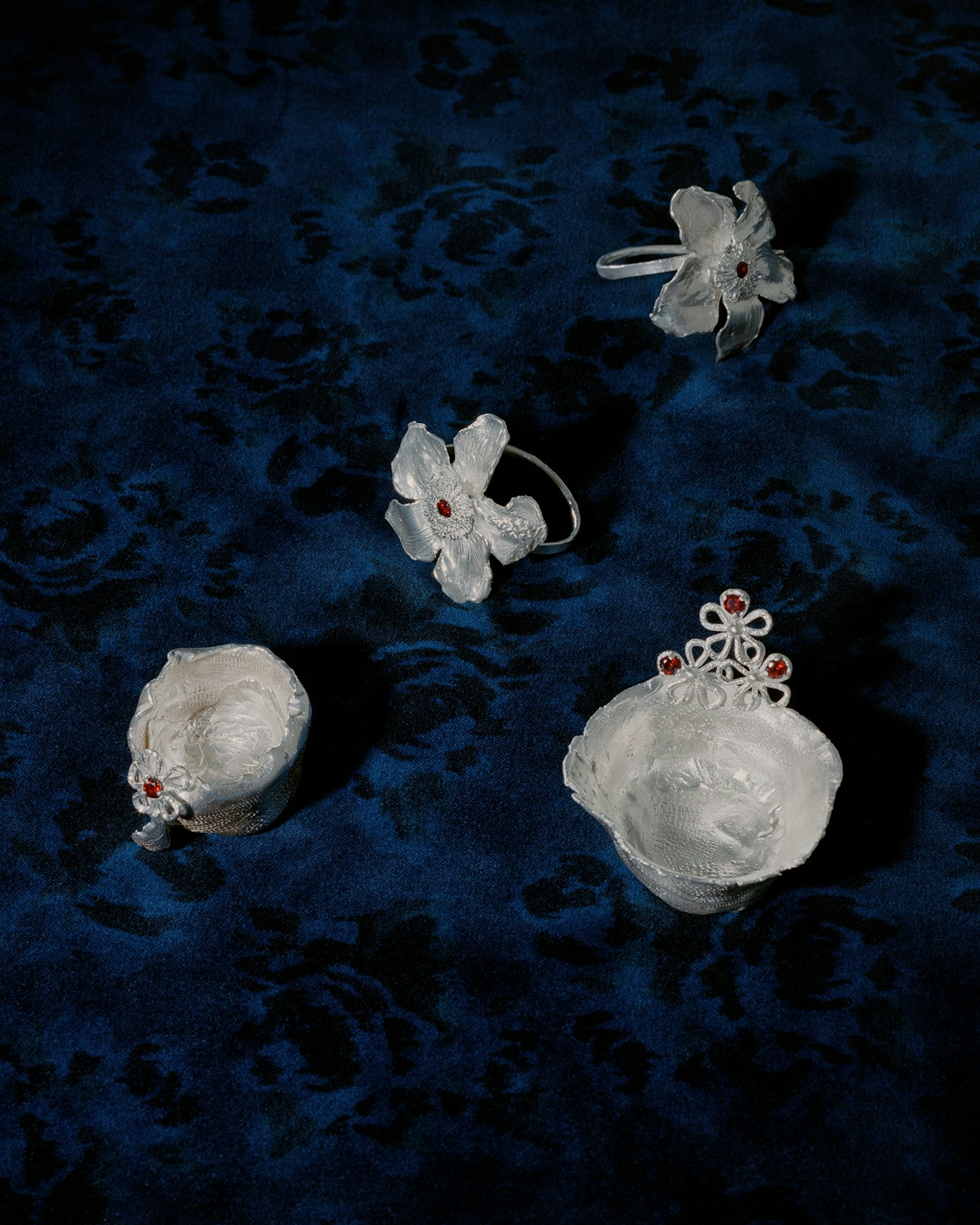 C.V: It was so interesting to observe her put her feelings into these tiny parts of this painting, while the rest of the canvas was left untouchable. Perhaps that was the reason when I started my artistic journey, I explored painting first.
Now I view each material as a unique language through which I can convey my vision. My exploration of new materials stems from a profound curiosity. It started with painting but it is in sculpture or the making of objects that I find that my voice is the most clear.

E.B: As a creative wearer of many hats, do you find grounding by compartmentalizing mediums, processes and communities (art, design and fashion, for instance), or do you prefer a more holistic approach? 

C.V: They're all enchained. How I am perceived by others, or how certain environments categorize me is something that's out of my control. 
I feel like we are in a moment where we're celebrating a lot of stupidity. I'm thinking of words like 'influencers' and stuff like that. In my private experience, I have a small circle of beautiful friends that do not interact with these kinds of worlds. They inspire me a lot.
C.V: How we become so exposed and so basic is quite sad. My closest friends don't belong to these kinds of celebratory platforms. And I think that these days, creating work is almost repetitive and robotic. We're constantly consuming the same images and content and I find that really boring and very empty. I do have one foot in that world and I'm scared to take that foot away, because it's what allows me to be in a studio or do a residency or afford a project. I do see this in a more holistic, honest way in relation to my creative work.
We're so scared to be more profound and simply in ourselves. I believe that we're  afraid of asking the bigger questions…  We navigate this life through either being in the clouds or getting deeper. It's easy to describe oneself in a solely bright way, but I think the darks are also super important because it's what builds the "work" at the end of the day.

E.B: Place, be it a literal Home Place or a looser, more poetic definition, feels like a subtle, but impactful influence that runs through the work. How do you relate to ideas of Place?

C.V: I have been thinking and working deeply about this concept of "place" for the past few years. I recently read The Poetics of Space by Gaston Bachelard for the second time because I was searching for a clearer understanding of what this concept truly means to me at this moment of my life. My relationship with place is deeply rooted in the idea that our surroundings, whether physical or metaphorical, have a profound impact on our experiences, emotions, and creativity. It's like how a physical home can shape one's sense of belonging and comfort. I loved this part of the book in a section called "shells":
"One must live to build one's house and not build one's house to live in (...)  For generally beauty exteriorizes the surest sign of wonder is an exaggeration. We want to see and yet we are afraid to see(...)  When it is a matter of nature, we rarely find ourselves on familiar ground. At every step, there is something that humiliates and mortifies proud minds. In other words, a snail shell, this house that grows with its inmates, is one of the marvels of the universe. Shells are sublime subjects of contemplation of the mind. Often when we think we are describing we merely imagine. Snails build a little house which they carry about with them. So they are always at home in whatever country they travel." 
These days inspiration comes through each landscape of experience that I have or set up for myself.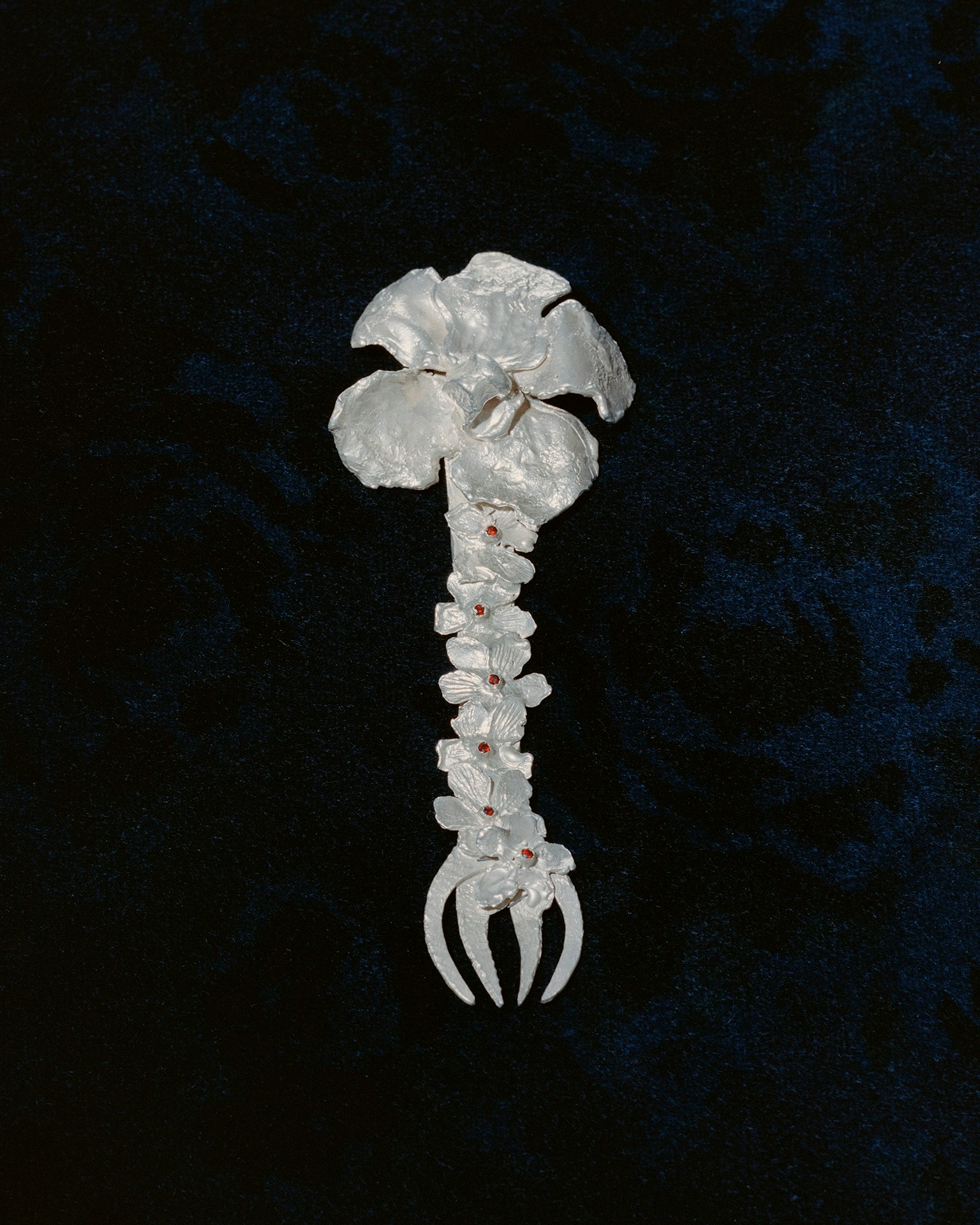 E.B: Speaking of Place, the tiles that you've been making feel quite linked to your relationship to Portugal.

C.V: The tiles definitely came from moving to Portugal. Not only Lisbon but all of the beautiful towns are tiled with traditional white and blue decorations. I had met the couple that started Garcé & Dimofski who had moved to Lisbon and have a wonderful apartment that is now their gallery. They invited me to do a project for them and gave me total freedom as long as I responded to this architectural niche in their space. This was a great opportunity to translate some of my work in paper into a tile painting. We were very happy with the results.

E.B: Formally speaking, I'm enjoying the recurring visual motifs that are emerging through the work, like florals and other natural elements.  Could you share a bit about where your formal language comes from, be it subject, color, or aesthetic? 

C.V: Flowers offer a timeless and universal symbol of beauty and transformation. They are emblematic of the passage of time. It represents a unique state of being, from bud to full blossom and eventual decay, mirroring the human experience and its transient nature. This aesthetic choice allows me to capture the essence of fleeting beauty and can resonate with viewers on a visceral level. In essence, my formal language is an ode to the beauty of impermanence.
C.V: It is a means of exploring the different states of beauty, from the freshness of youth to the wisdom of age, and it serves as a reminder of the profound connection between nature and the human spirit. It also relates with my passion for gardening and growing flowers, selecting their color palettes to see them interact with each other. 

E.B: As an artist who also creates works of design, has there been any challenges or proud moments in making works where poetry must balance functionality? I'm thinking of the jewelry pieces, the tile works, and what you're working on now for JSG.  

C.V: For me it all comes down to the aim of preserving the artistry of craftsmanship and the poetry of creating with one's hands in an increasingly technologically driven world.
I don't make products, so I don't think about functionality as much as I have a concern with the beauty of craft and unique pieces. It involves a sense of delicacy and fragility. My intention is to emphasize the feelings we often have for objects rather than a relationship of over accumulation or consumption.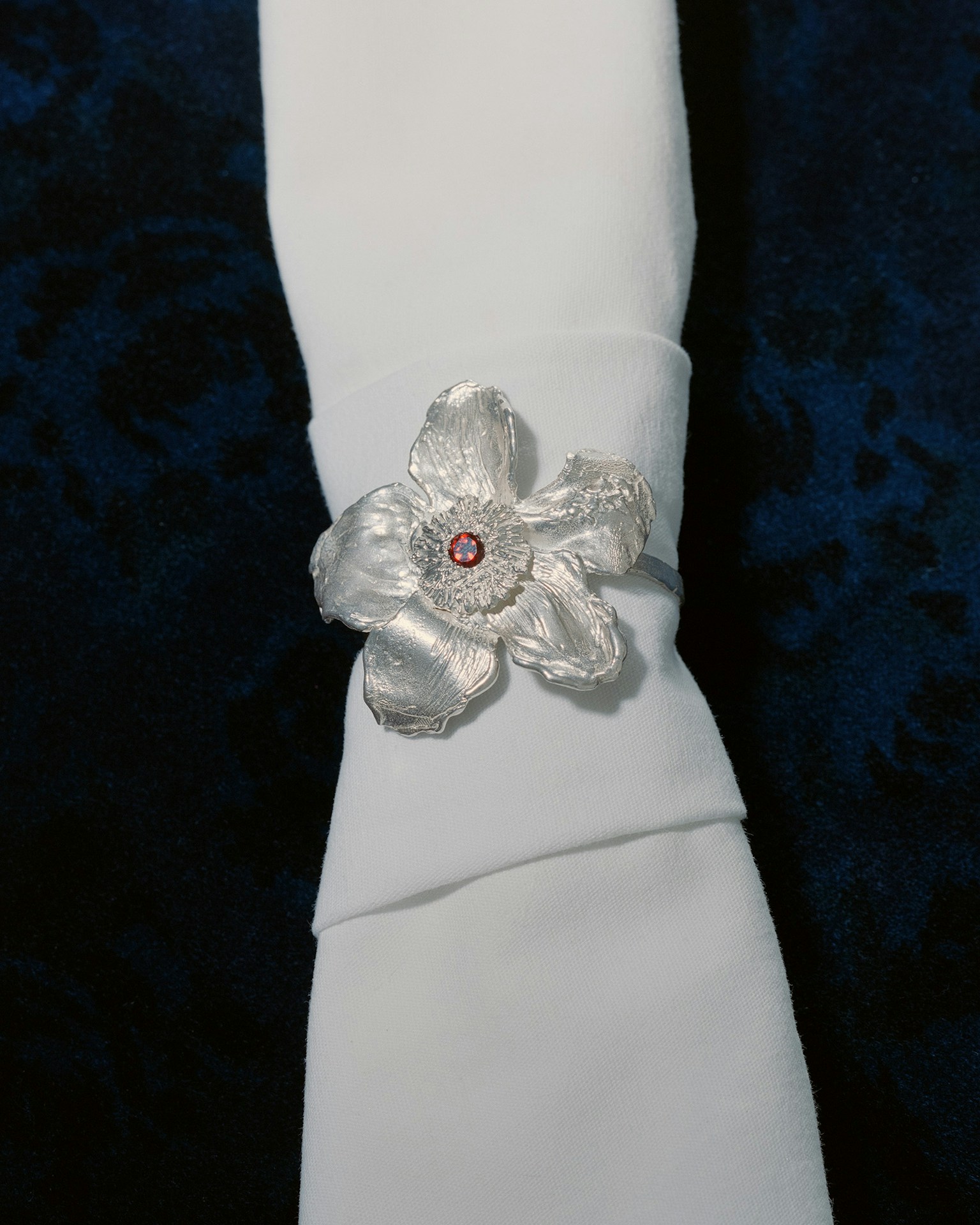 E.B: What are you exhibiting for Angle of Repose? 

C.V: I'll be exhibiting a collection of sterling silver cutlery and small objects with red garnet stones designed in collaboration with my dear friend and goldsmith, Orit Elhanati. The collection is called JARDIN (garden in Spanish). For us, a jardin is a place of wonder, where nature's beauty flourishes in a symphony of colors, scents, and textures. It's a sanctuary where life unfolds, inviting exploration and evoking a sense of awe.
The collection is inspired by the elegance of the Gothic Victorian era, celebrated for its opulent craftsmanship and evocative silhouettes. Using precious metals and stones, the objects utilize gothic design elements that contrast with delicately handcrafted floral motifs.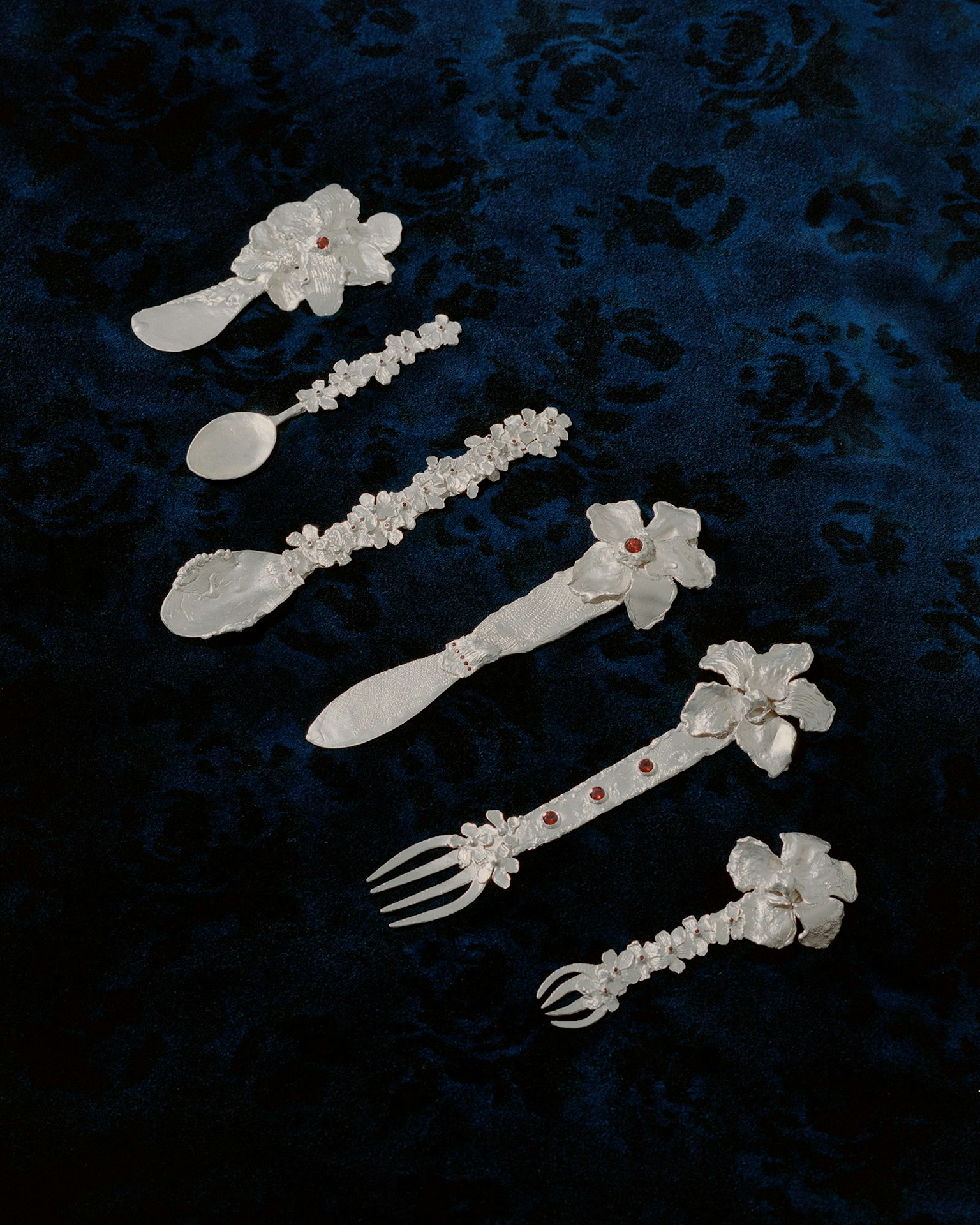 C.V: We hope that these pieces serve as a visual testament to beauty that emerges in unexpected places. Within each petal lies a narrative thread, weaving stories of tenacity, transformation, and the universal connection between humanity and their environment. Importantly, these objects can transcend their utility to enrich our everyday rituals, not only with aesthetic allure, but also with a tangible connection to history.

E.B: What feels important to you as a human right now? 

C.V: The pressing need for empathy and unity in our world. In a time marked by division, uncertainty, and global challenges, the ability to understand and connect with one another. Empathy calls for us to recognize and share in the joys and struggles of others, regardless of our differences.