EB: What do you do?

KDO: I design and make things–mostly, soft objects with fabric be it pillows–that are sort of conversation pieces within a space, and then sometimes clothing.

EB: Where did your interest in an object's potential to converse with a space come from?

KDO: It came from a functional standpoint, like looking at how a particular thing exists and how I could enhance it. How could I invert a part or a component of a thing to be something that is ornamental or to just be beautiful? I wanted to offer something that energizes a corner or organizes something in a more visual way.

EB: How are you and where are you?

KDO: I am in Japan visiting my husband, Shin's family as well as some other friends. Specifically, I'm in Shin's Dad's house in the tatami room where there's the altar and where we sleep. It's also the quiet space in the home that looks out onto the garden. There's also a park across the street.

EB: How long have you two been together?

KDO: 10 years married, so 13 altogether.
EB: How do these visits play a part in your life, professionally, or personally?

KDO: For the last 10 years, we have gone on and off. But I think meeting him and having him share his world and his family with me was expansive. It felt like this really huge opening up of thinking and seeing. And it is so culturally different from how I grew up in Texas, which is a remarkably different place. In Japan, seeing how beauty is made here, how it's revered, and seeing aged things and places and ideas. And the honor that's put in materials and how things are made are just some of the many differences. This contrast has influenced or highlighted parts of my creating process that I can improve or look closer at so it helps build my creative language. I also love observing how the design, the arranging, and the problem solving are a part of the work here.

EB: Speaking of observation, as a fan of your social media account, it's very clear to those who are following where you are right now and how this spirit of observation is documented with the images you're posting. Would you say that kind of casual documentation feels like a part of what you were just sharing about in being present?

KDO: Yeah, absolutely. Shin's Mom's friends laugh at me. They're always jokingly asking why I always take pictures of the most ordinary things like a hose. These little things have surprising details that are really fascinating to me.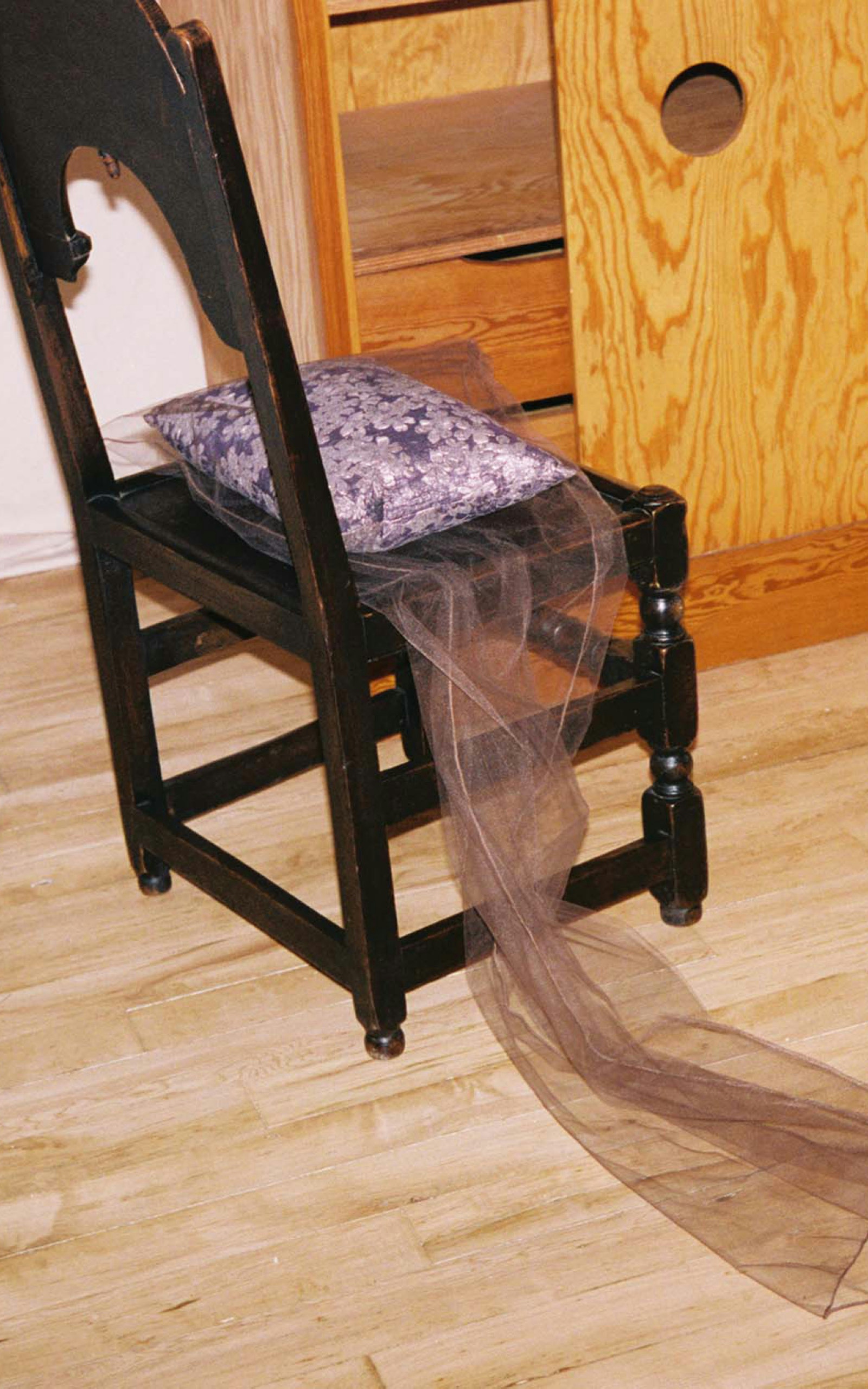 EB: Is there an example that comes easily to mind in a work of yours that really speaks to this decade-long relationship with Japan?

KDO: The thing I am really bonded to is this high and low of life, of things here. It could be something so casual and mundane, but it will be placed in such a particular way. Like the garbage nets. People around me are tired of me talking about and photographing the garbage here. The nets are this really specific blue. It's a net that's used because the crows peck at the garbage and I like how they're draped after they're used. This kind of netting reminds me of tulle, which has a dance reference, but it's also kind of cheap feeling in its hand. I think of it as definitive in its garment use and I thought that I'd use that sort of netting idea for a pillow. Maybe that's like the most obvious example of something I've seen here that I've embedded into a project, but I think the high and low here stays with my frame of thinking.

EB: What does the professional universe of Kristin look like? There's Rowena Sartin, Iko Iko, gestures done under your own name. So how do all these things click together? How do they coexist?
KDO: Designing and making clothing was something that felt like a pure expression for me when I started on my own. Later, I really needed a place to control how the work was received so I wanted to create a space for it that felt authentic and could also include work with other people in the same conversation. That's how I birthed Iko Iko. That was the role of it and then I came to a point where making clothes just didn't feel like that's what I needed to do, or that it just didn't have the impact that I felt was important or good enough. I was conscious of how the world of making was changing, and what habits I wanted to change in how we acquire things, thinking about what one actually needs in this world. I was looking at my purpose. I shed trying to make clothing as a brand and let that fade away in order to have a more active collaboration with Shin to explore using furniture as the body. Furniture is rigid, its form changes as you add to the silhouette. It's an armature that you can dress or cover in whatever way that you're inspired. 
In a way, it was like adjusting my practice as a more straightforward river. I lost the smaller streams. That allowed me to work in a more nebulous way, letting people question it too. I don't necessarily need the work to be straightforward like a "this is my brand" gesture. We have so much of that. Plus going that route makes you follow certain rules or encourages people to expect a certain thing when you claim it as that. I just wanted it to be fluid to whatever form I gave it. Something malleable.
EB: There is power in messiness! It really does put a different positioning on people's expectations. It makes me curious as to your arrival at the name Iko Iko, which–as you've shared–means "let's go". Where did this namesake come from and how does the spirit of that choice of language continue to guide your work?

KDO: It's a few things. It's a rally cry and I like the cadence of it. A friend actually suggested the song by the Dixie Cups from the 60s when I was in the naming process. I wanted to take people to a curious place. It still holds all the things I make in the right way for me, and it's a "come with me" gesture. I want things to remain interpretive, like reading a poem where one person will take a particular meaning from it than another person. That is what is always important for me in this whole universe.

EB: I think about it in relation to the sheer variety and breadth of your tools and materials that you're exploring, which also creates many opportunities to enter the practice. Maybe they've just wanted the perfect pair of work pants, or they're curious about a different kind of wearable or a design object enhancer, like the cord covers. Even in the breadth of the work, you're creating these paths and possibilities for people to take meaning from or participate in.

KDO: Variety is another thing I like! I don't want to stay the same. I want to keep changing and offering change in what I do.  Maybe it's like letting pieces be a suggestion and the user is left with the next step.
EB: Can you talk about your interest in the act of connection? 

KDO: I think it stems from an interest in innovating. Combining two unlikely pieces like a historical chair with my idea of a chair covering brings a new arrangement, or connection, between the two. The word "care" is a really important word for me in what I do. That veiling or covering or softening, protecting, decorating. Those are all words that resonate with the love and warmth that I want within a space and in the objects within that space. It's still allowing for the object's original personality, but with a slight transformation. That's what connection is. You're not desiring something or someone to change.  You're both being yourself and you're bonded by a particular link. 

KDO: I'm a more intuitive maker, so I let that characteristic be part of my process. If I'm having to dress something, how can I use this thing I already know–like a garment or a pillowcase or a pillow–to become something different. Maybe it has a different armature now or it attaches to something in a different way or it has a useful exaggeration. That's both a symbolic and literal connection. Like how to cover something, but with thoughtfulness. Not disguising it, but uplifting it. 

EB: It's nice that your alternative to disguising has so much to do with transparency and revealing. There is a spirit of the unexpected.
KDO: Unexpectedness is a nice feeling too!

EB: For your work with the gallery, how was it creating in response to a very particular, historic chair?

KDO: Jacqueline had always proposed that it would be a historical chair. She found these Morris & Co. chairs, but even to this day, I've never seen it in person! That was the most challenging part of it. It's like getting to know the person or the object. You have this presence that you're supposed to be working with and responding to, but instead it was a printout on my wall for months. I had so many false starts. Shin made this really basic prototype so I could actually attach something and see if it laid in the right way. I was also Googling the exact specs. My approach was to try and get as much technical information as I could to ensure as few errors as possible when the pieces arrived at the gallery. 
Literally this morning was the first time I saw the pieces on the chair! I knew through the images and dimensions that the chair had a kind of an awkward design. The armrests are high, the dowels are tapered and there's a really beautiful rush seat bed. The wood, I think, is ebonized, so it's dark and the contrast is really high. I had some basic notes on the Arts and Crafts Movement, and the design guides that they were working with.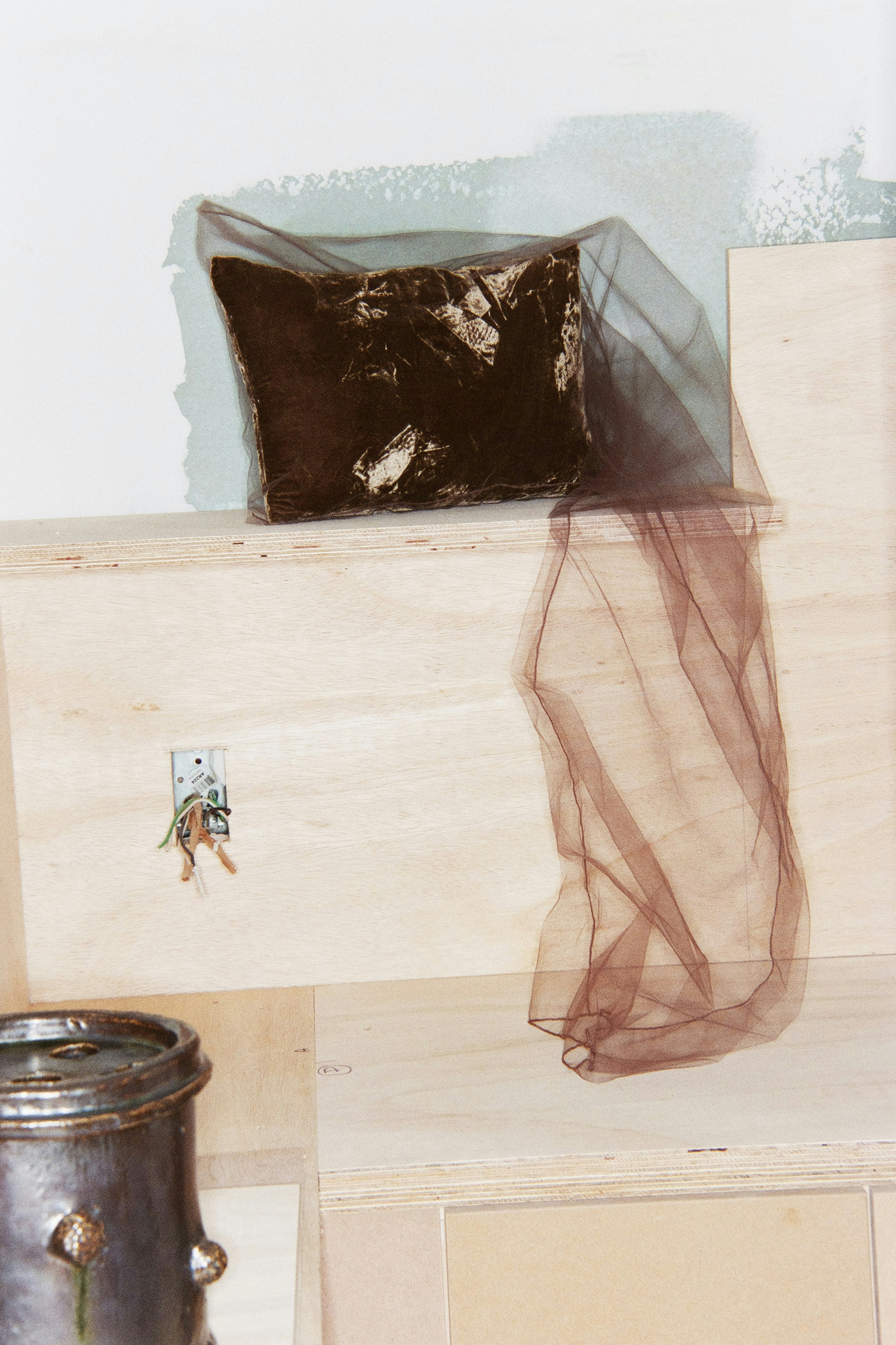 My objective was to make a covering that would highlight the craftsmanship of the chair, but also not be a gimmicky or a conventional product design-inspired covering. When I think of chair coverings I first think of the linen chair sheets that are more protective in purpose. So I took it in a really wild, very garment focused direction. They have sleeve or belt references or directly respond to a component of a chair, like making a pillow for an armrest.

EB: That sounds so difficult because I would imagine given your practice that there is such an importance to responding to the actual object, in real life. I love that Shin made you kind of like the bootleg as a way to help with that.

KDO: It was very bootleg.
Sometimes historical pieces are just historical pieces. Sometimes they don't allow for anything. But this piece was really user friendly for a household. It wasn't a corner chair piece, which kind of lessens the blow of my overall gesture.

EB: Some of the language that you've used to describe these new pieces is so evocative and playful. Chair coverings as wraps or having tendrils, garters, napkins, cozies, and puffs. You could publish a chapbook of poetry with the language alone! What other language do you prefer to use? 


KDO: Clothing and clothing-like language is how I'm comfortable communicating. I enjoy applying that language to furniture, but I still have to redesign its function and shape it on a unique kind of body that doesn't change or move. It will point to those actions of protection, covering and attachment, but it will still remain as adornment or ornamentation. The words help with that reinvention. It guides people. A chair is very straightforward. We know what to do with the chair. But when you dress it with these pieces, I'm not trying to make the chair comical or absurd, but just trying to give it a sensitive touch. Showing how I can connect with this object and how I can propose an idea for it

EB: It's another great example of giving yourself constraint in a way. I will use this language of another discipline as a way to help kickstart this specific conversation or project at hand.

KDO: Definitely.

EB: I'm struck by notions of softness and care that run your practice. Are there other descriptors that you return to or think about when making?

KDO: Contrast gives you a choice. So I try to follow that equation in textures and also in spirit. Care is the main feeling I want to impart as well as a deep sensitivity and happiness and joy. Its lightness, comfort. I also enjoy playing with the idea of comfort too. A lot of pillows that I make are not necessarily what you should use for your head or on your couch, but curiosity, ornamentation and surprise are words that I like to use when I'm in the making process.


EB: How does family, community and collaboration find its way into your work? 

KDO: I can point back to this idea of Iko Iko. That project really brought me an amazing, supportive and generous community of people and makers. Collaborating is really hard for me, but when I have the right people, it makes sense and it's an easy process. Making pieces with others is responsive and requires a joining of ideas and efforts, but also a respect of strengths and weaknesses. With my friend, painter Alex Olson, I'm such an admirer of her work and we have a very  natural way of working through ideas. For our recent show together called Xtreme Guest, we made table setting boxes that came from our need of wanting more personal napkins. The napkin is like a small painting and the holders function like accessories, something you could wear or fiddle with while you're uncomfortable or nervous at a dinner. They are meant as tools to usher you through an event. It's quite special to find people that you can move forward with that share the creative intentions that you have over many different sorts of categories.

EB: What feels important to you right now as a designer or just as a human?

KDO: Care and listening. My goal is to extend that definition of love and thought in the work. To make work that suggests a reinvention and lifts up a person or space. Especially now it feels like we should offer support.