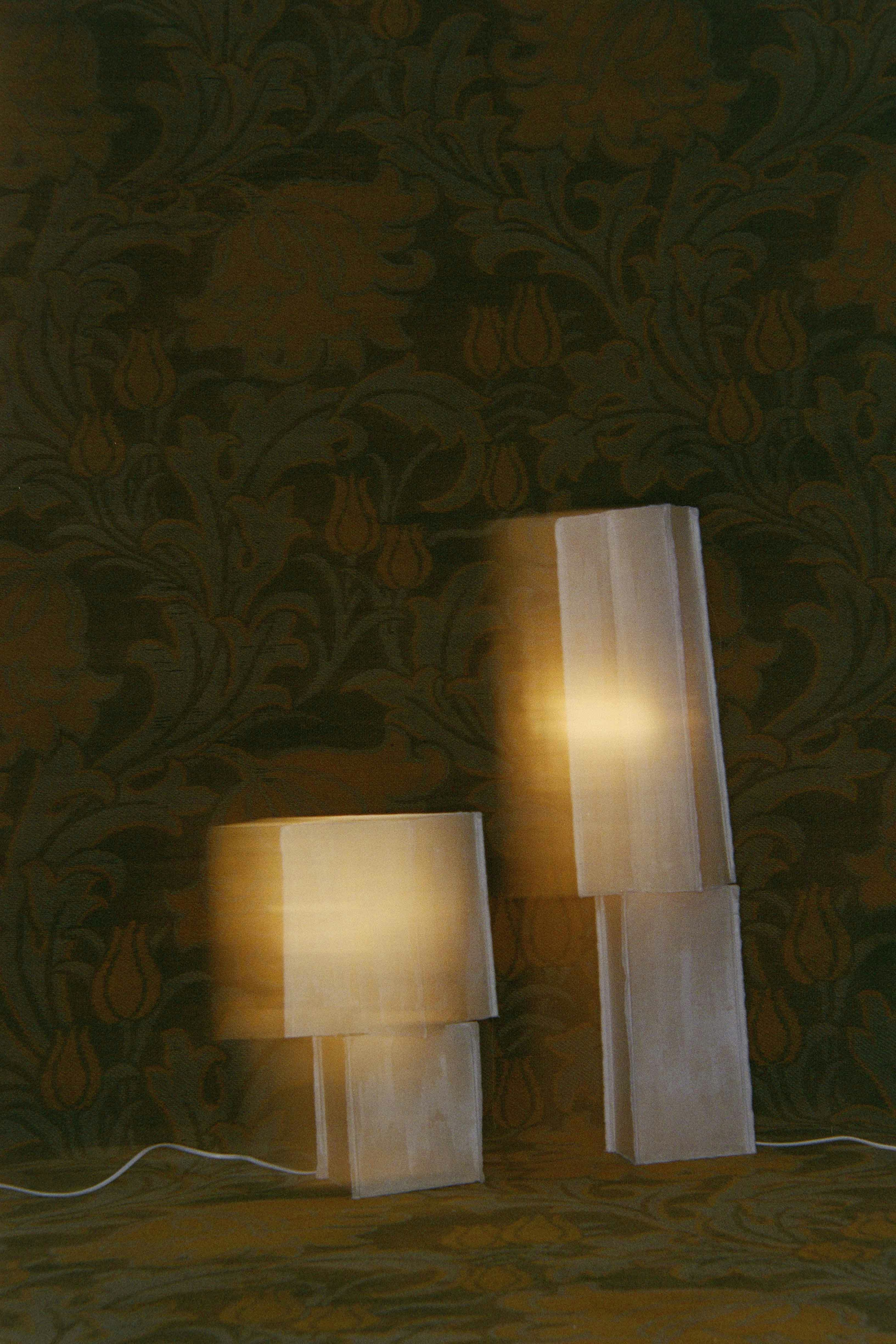 EB: I'm curious to learn about your relationship as collaborators. What prompted your decision to start a studio together?

CHJ: Jade and I met at the Design Academy Eindhoven.
JC: The Design Academy thinks about design in a way that is not very focused on the end result like product design, interior design, or fashion design where the results guide the process. It's much more about the concept and the motivation behind what you're designing and for who you're designing for. As a starting point to thinking about the potential for design, the departments are organized according to human relationships to communication, living, identity, and wellbeing. It was a process that not only depended on the school structure, but very much on the peers. So that's how Christian I actually started working together, because the two of us became each other's close partner for bouncing ideas off each other and getting feedback on our process. We built a relationship of being able to trust each other without doubt or weaknesses. And as a result, we were able to see each other's strengths and potential. We realized that this combination is what allowed us to produce good works, or at least what we thought were good works!
For us having a constant collaborator means that we are constantly learning and relearning. Because you have to keep defining and verbalizing your understanding of materials, technique, process, ideas.

You create a safe space between you where idea, materials, function, and method get to be fluid. And you get this possibility to dream before you have to return to what you actually have to produce.
CHJ: It's something that we still keep with us. It is a very special place, but it is also a bubble.

EB: How was it putting your collaboratorship to practice once removed from the bubble? It sounds like the foundation was incredibly strong, but I'm sure life after graduating presented a whole new set of challenges? 

JC: Definitely. It took us a while to find our footing as our studio began with the idea of wanting to challenge the relationship that we have to the objects and spaces around us, which is incredibly abstract. When you exist in a bubble that is so exploratory and experimental, you're able to manifest those ideas in strictly conceptual ways. Having to enter the real world and work with collaborators and companies is when it starts to become more about what the actual issues or materials are. Or, what the real life conditions that we have to work under are. And the issues we choose to address, or people we choose to work with, allow us to better understand what we find most exciting and important.
EB: A through line I see moving through your practice is a playful and extremely considered attention to contrast. The heavy and the light; the opaque and the transparent; the hot and the cold; the fragile and the sturdy; the soft and the rigid. How do you engage contrast in your work

JC: We really liked that you ask this question, because it's something that we've been responding to. Looking back over the years, we have started to see this pattern of an attention to contrast that we initially were not conscious of.
CHJ: Whether it's conscious or unconscious, it's something that brings a dynamic feel to the objects that we design. It could emerge in something that we find or maybe it's about revealing a material's expression, like how something glossy feels more glossy when it's up against something matte. It's also a learning process for us. How can you make material react? How can you work with the material? How can you brush it, crack it or polish it?
JC: We always want to push the boundaries of materials in how we know and perceive them. We never do it with the intention to defy their unique property, but rather to explore and expand an intrinsic characteristic. So for instance, we see metal as something cold, solid and hard, but the question for us is how can we give that same material an organicness or softness? Brushing it reveals a specific tactility that you may not normally associate the material with. That's also what makes it exciting for us to work with.
EB: This speaks to a real curiosity of experimentation in seeing how far you can push a material through various processes. I'm enjoying thinking about the drama in contrast!

JC: It's such a good way to put it, because I think it quite accurately reflects the process we go through when we do this. You just have no idea how it's going to go. It surprises you all the time. And it keeps you on your feet. And I think that keeps us…
CHJ: ...motivated!

EB: What is your relationship to process and patience? 

JC: We are actively working on the patience part. When we are methodically and precisely hammering metal, it's an action that we feel reflects our mindset on striving to work with patience. 

EB: The hammering is a nice metaphor.

JC: It quite accurately describes the way we take on these processes. We are also working on how we can at times loosen control in certain areas and tighten it in the areas that matter. Sometimes when you want to have control over everything, you actually lose control in the overall scheme. I think it's about also placing the right balance on where the pressure is–to add to the hammering metaphor.
EB: Can you tell me about your paper lamps for the gallery?

CHJ: We received this text, Tender Buttons, from Jacqueline. It's very special and quite difficult to understand, but it wanders about seemingly ordinary, everyday things in a very chaotic way. We were inspired by it to work with something as mundane as a piece of paper. It's something that is always around and you work so much with it, be it writing or reading from it, etc. The idea was to explore this material and create these vessels. Importantly, we wanted to contrast the fragile material by rendering it in brutal, heavy-feeling forms.

EB: Where did their design language come from? I love the subtle variations in size and orientation.

JC: We started working with the A4 paper to make small scale models. The way we would cut the paper became very instinctive, developing out of what naturally came to us. The final pieces are simply scaled up versions of the original paper scale models. We were trying to understand how something instinctual, quick, stacked, and built up could be transformed into a cohesive design.

EB: The paper lantern has such a rich history. Were there any landmark references for you? I'm also curious to learn about their connection to architecture and how they converse with interior space, be it the showroom or the house.
JC: We definitely see this collection of lamps as our addition to the long history of paper being used as a vessel for light. We settled with this idea of paper being able to both contain light but also refract it. And we just liked this idea of how when placed in a space, it becomes a column and an entity of its own. They illuminate space, but are also sculptures on their own. 
CHJ: You can have a lamp shade that directs the light in a certain direction or cast it, but with these, they create an illuminated, diffused light. It's like giving shape to light rather than just directing it.
JC: And light can give shape to space. Using just the paper alone would have been a bit one dimensional so the waxing is important for us. It allowed us to explore the dimension and the tactility in which light is diffused through paper, which in turn affects the larger space it's in.

EB: The decision to coat the paper with wax exemplifies the idea we were talking about earlier in how you are always looking to honor a material, but push and flex it to arrive at something different.

CHJ: It was another everyday material, but practically speaking, it was also a way of stiffening the form and giving it a wilder expression. The shapes are so rigid and geometric, but the wax also has the effect of being able to soften it up with these brush strokes. It not only provides structural support, but also gives these fragile pieces an extra dimension.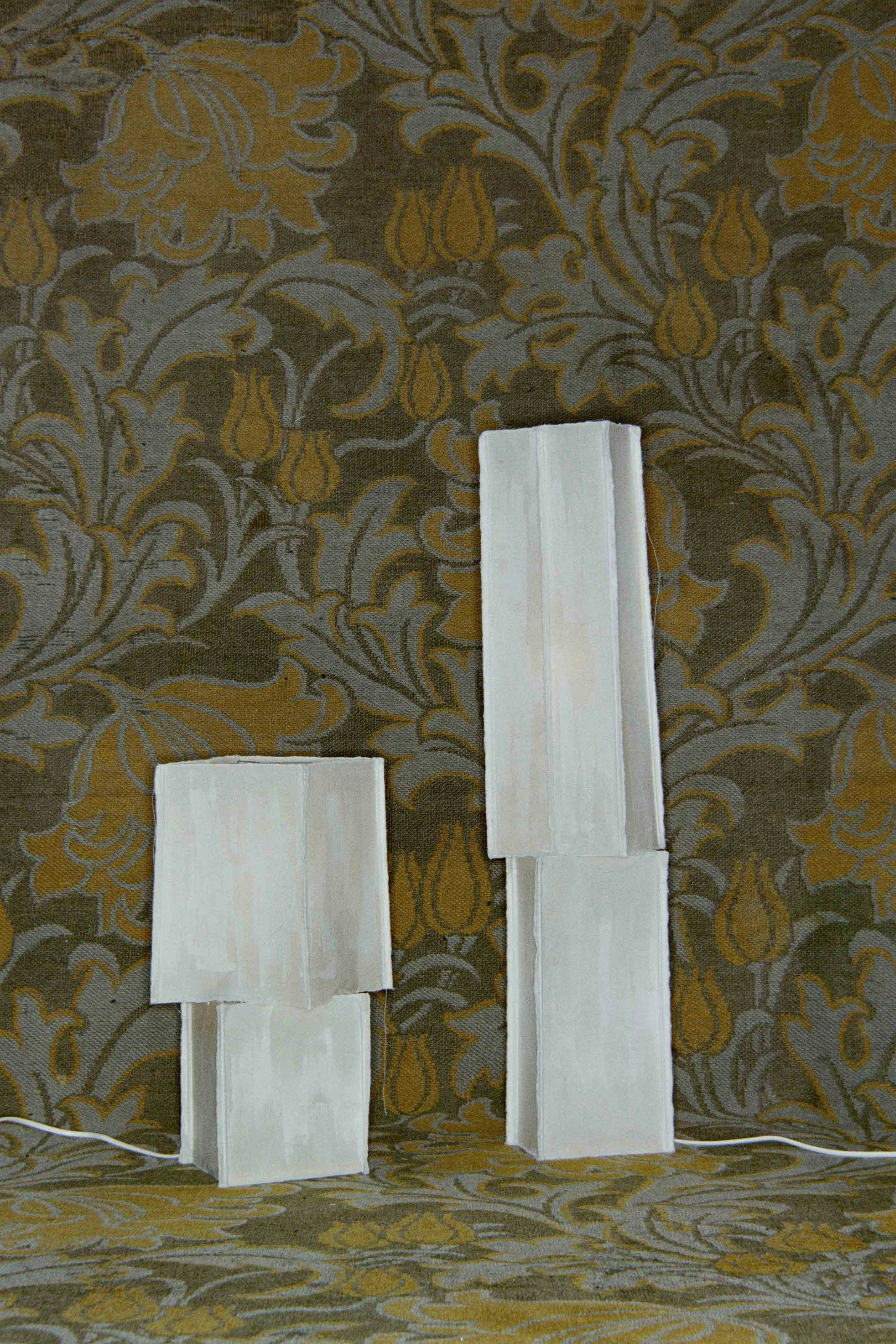 EB: What feels particularly important to you both as designers and humans right now.

JC: As humans and designers, we're starting to recognize that our object and material environment is composed of globally sourced, natural resources that are not disposable and not unlimited. As people who make things and put them into the world, we can play a role in not only recognizing this, but to continue to create with this knowledge and awareness. Everything comes from somewhere and has arrived to us through someone.
CHJ: We want to creating things that can exist for a long time and aren't trend-based. We want to use natural materials that are long-lasting and timeless in its expression and material. It's very important that the work can exist beyond a certain point of time.
JC: And to celebrate how an object transforms in subtle ways with you as you own and use it.